Aalto on Tracks is taking around 100 people from the Aalto University community with a private train from Helsinki to Shanghai World Expo, China, on May 2010. That's over 10 000 kilometers and a week on tracks!
Our goals are to take Aalto University, Finland and Finnish education to the world. We want to unite Aalto people and create an unforgettable learning experience for around a hundred Aalto people and guests.
Follow us on the map and via Talky!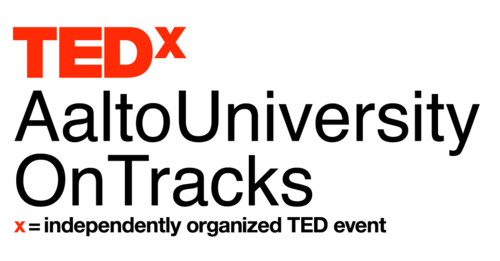 Awesome news! We got the official TEDx license! Our TEDx event is going to take place on the train in Russia after we have left from Moscow.
Now we are looking for spectacular speakers. Do you have ideas worth spreading? Do you want to make history and speak at TEDx on the train? If yes, please contact!
More information about the TEDx event.
-Olli
olli.laine [at] aaltoontracks.com
What is TEDx?
In the spirit of ideas worth spreading, TED has created a program called TEDx – local, self-organized events that bring people together to share a TED-like experience. At the TEDx event, TEDTalks video and live speakers combine to spark deep discussion and connection in a small group.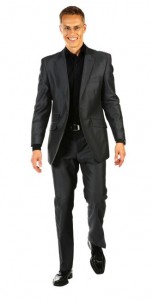 We are pleased to announce that Mr. Alexander Stubb, Minister for Foreign Affairs of Finland, has accepted our invitation to become the patron of Aalto on Tracks. This gives an excellent boost for our project and we are very happy to have Mr. Stubb supporting us.
Aalto on Tracks is departing from Helsinki towards Shanghai on May 14th. Most of the participants have now been selected, and we are looking forward to a memorable journey.
Enjoy the Easter!
- Mikko Ikola
A magazine type publication will be released about the Aalto on Tracks trip. The publication will contain articles and photographs of the collaborators, making of the trip and being in the train. Now we're looking for a chief editor for this magazine. It could be you!
The job consists of collecting a team from people going on the trip and working with them. Team members write articles and take photos but the chief editor is, in the end, responsible for the publication being made. This can lead to quite a lot of work after the trip when things are put together. The job may also include few other writing tasks for other magazines upon request. Anyhow, the chief editor has pretty much free hands with the publication.
We require experience in journalism or even more preferably in being a chief editor of some publication. It is uncertain whether we have a professional AD or editor for the magazine, so the chief editor should have some competence for those tasks as well.
So, what does one get from being a chief editor? First of all the awesome experience of being in a train in the middle of an adventure, of course! Because it is not actually a piece of cake, the chief editor also gets the trip to Shanghai for free!
Are you interested? Send an open application to me!
Do you have a question? Ask!
The dead line for the application is 9.4.!
.riikka
riikka.liedes [a] aaltoontracks.com
Good afternoon fellows!
We have more applicants than we can take on the train! We will process through the applications and inform you 1st of April at the latest. You can still leave an application, but applications sent before DL are preferred.
We have also confirmed the train! There have been a lot of work for our Travel Agency to reserve the train, but it's now confirmed. We are leaving from Helsinki on 14th May. We go to Moscow with ordinary Tolstoi, but from Moscow to China border (around 6 days), we have a private train – just for us. From China border we go to Beijing, and from Beijing to Shanghai. We arrive in Shanghai 24th May at the latest. I'm sorry for the misinformation told beforehand in the fund raising event about the train.
PS. Please prepare to pay 500-1000 e in a week or two. The train and the accommodation needs to be paid pretty early.
More info will follow!
The most important thing on the trip are the people taking part in it. We want a large variety of people, from different backgrounds, both teachers and students, startups and people from abroad. Motivation is the most important factor in choosing the participants, so don't hesitate on filling the application form.
Do you have a team or perhaps a friend whom you really wouldn't want to leave in Helsinki during the trip? You can also apply to the trip as a team or together with a friend. Just write down the team name in the "Your name" field of the application, and tell more about yourselves in a free-form application.
Also, please take note that the application is not yet binding. You can apply even if you are not completely sure whether you actually can leave. Hope to see all of you on the train!
Click here for the application form.
-Oona
Jolly good Friday everybody! There's been a lot of buzz about Aalto on Tracks after the launch event. It's great to hear that the word is spreading. I collected some important facts to this post.
UPDATE 2: The official departure date is now locked. The train will leave the Helsinki Railway station on 14th of May.
UPDATE: The train trip will most probably take place on 13.5.-24.5. We will leave from Helsinki on the 13th of May and arrive in Shanghai on the 24th May. We have confirmed two different train options from our travel agency. Dates will be confirmed as soon as we make decision which one we take. Departure will be most probably on 13th March or  otherwise  on 15th March. This will be informed at the latest in end of March.
The price of the trip is will be under 1000 euros. This includes the train trip and accommodation in Shanghai. Because most of the people want to stay various time in Shanghai and continue the journey to different destinations, it's up to you to book the plane ticket back.
If you couldn't make it to the Launch Event, you can watch the intro presentation here. There will be a short video summary about the workshop part later. Thanks OUBS!
PS. Lot of people have been in contact with me by email after the Launch Event – I'm sorry that I haven't had time to answer them all yet. You can always call me as well, 050 411 7282.
Have a nice weekend!
- Mikko Ikola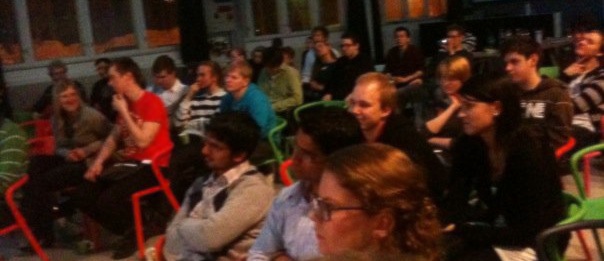 Thanks for the great Launch Event yesterday, you really made it happen! It was awesome to see people working actively and hear hundreds of amazing ideas!
In addition to students and professors from every school of Aalto University,  we also had a wide range of people from different backgrounds ranging from small business owners to representatives of large corporations. There was also people outside of Aalto, and people from abroad, great!
We would like to hear some feedback about the event. Would you like to hear something more about the journey? What did you like about the Launch Eve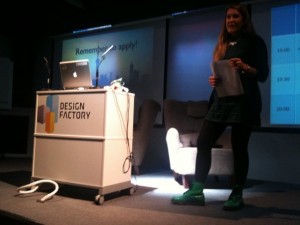 nt and what should be repeated? What should be improved? And was there something that was missing in your opinion?
Please let us know and post a comment. We are eager to turn this trip into something even better.
We also need people with ideas and initiatives. As said, this will be a trip where everyone will contribute, and each participant will have a special role to play.
If you would like to be in charge of something, say, directing a movie of the journey or leading a sports team, please contact team@aaltoontracks.com. We will gather the ideas and persons in charge of them and publish a blog post as soon as possible. This way people can find each other with similiar interests. More info will follow!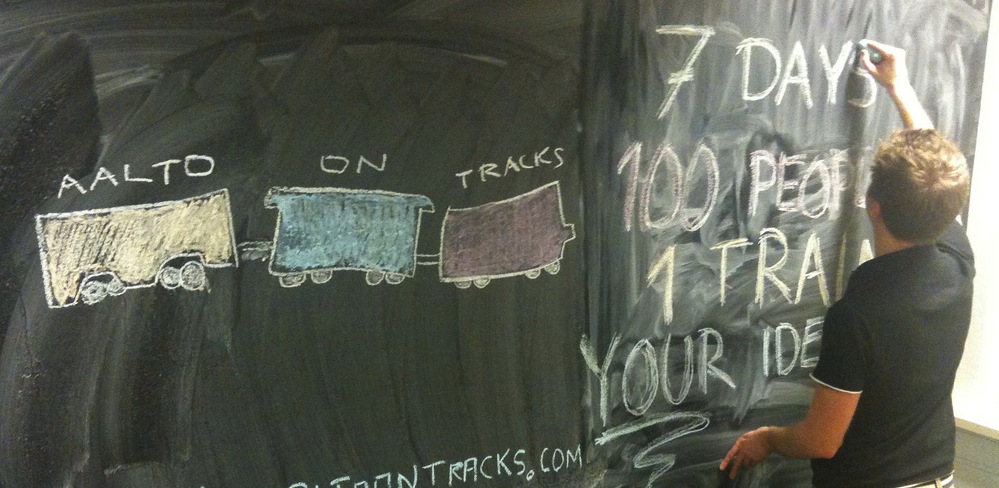 7 days, 100 people, 1 train, your ideas!
We have a dream.
We want to gather the 100 brightest minds from Aalto and take them to the Shanghai World Expo on an unforgettable train ride from Helsinki to Shanghai.
What happens on the way? You cannot buy a once-in-a-lifetime trip from a travel agency. You have to design it yourself.
That's exactly what we are going to do. We will gather in Aalto Design Factory (Betonimiehenkuja 5) to plan the trip on 10th March 18:00. You are invited.
We need talented and inspiring people to create a program for the way. With 100 people, what can we accomplish in a week?
Workshops, trainings, games or culture? What is it that you would like to do?
We will spend this evening planning the trip. We need people that have something to give to the other participants on the train ride. This way we can create an experience from which everyone benefits.
Join us in showing the world what Aalto can do! If you are coming, RSVP on Facebook.
- Mikko S.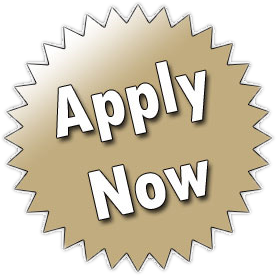 We just opened the application form! Check it out here:
http://aaltoontracks.com/apply/
We've gathered over 600 members in our Facebook group during the past couple of weeks. Seems that there are a lot more people interested in participating than we can actually fit in the train! We'd love to take all of you on board, but it's unfortunately not possible. That's why we need the application procedure. The application form will be open till 23th March 24:00.
There will also be a Launch Event at Aalto Venture Garage on 10th March 18:00 for everybody interested about the project. Have a look on the Facebook event page.
Exact dates for the trip will be published as soon as we know them. That's going to be in two weeks at the latest. We have confirmed that we can get the train for 100 people, but we are working on the exact dates and routes.
Anyway, a lot has been done in past few weeks. We have an enthusiastic and motivated team organizing the project. There have also been many other people helping us already, thanks for them. If you have some great ideas or you'd be willing to help in some way, don't hesitate to contact us at team (at) aaltoontracks.com.
But now, please apply and remember to post and vote ideas on UserVoice!
- Mikko
Hi everyone! We have received a lot of questions about how to get in, how to join the team, can foreign students participate etc. Here are some answers:
Easiest way to  join the team is by posting ideas @ aaltoontracks.uservoice.com. Also, remember to vote and comment on other people's ideas! You can also contact us personally.
As one of the main goals of the trip is to unite Aalto people and create Aalto spirit, most of the participants will be Aalto students. However, there are places for special participants like professional speakers / facilitators / partner representatives. Please contact us with this matter, as well
Anyone can apply, we are looking for people who we believe can contribute to the project and who have great ideas!
Registration will open 1st of March 2010.
So, post your ideas at UserVoice and follow the blog, Facebook and Twitter for news and updates.
- Oona