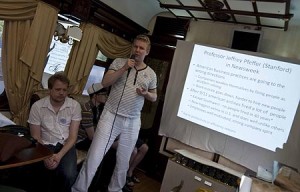 Our TEDxAaltoUniversityOnTracks was a huge success. Almost one hundred inspired people gathered into a conference car of the Trans-Siberian express to share and listen to ideas worth spreading. Five of us had a very unique opportunity to share our ideas:
Markus Heimonen: Perceptions from nature
Jukka Liukkonen: Editing, resampling, redoing future human body
Senja Svahn: Innovation networks – How to actively facilitate innovations
Heikki Hirvonen: Organizational Philosophy – Key factor to maintain success
Markus Grönholm: Terahertz Imagin – Mankind's new eyeballs
Speeches will be available in YouTube as soon as possible probably after we are back in Finland. We also watched three TED Videos:
TED Video: Thomas Dolby: "Love Is a Loaded Pistol"
TED Video: Rod Savage: Why I am rowing across the Pacific
TED Video: Tom Vujec: Build a tower, build a team
Stay tuned, we'll be posting people's feelings and comments very soon!
- Olli