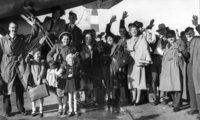 On Friday 14th of May Aalto on Tracks finally becomes true as we pack our bags and jump on board to the Tolstoy train that will take us to great adventures. Before we leave, Aalto on Tracks together with Aava and AYY would like to say goodbye to us in Amarillo where the Farewell party is arranged.
This is a great opportunity to meet all the participants and wish for a memorable trip. Maybe a glass of wine will make the departure easier or a glass of sparkling wine will make it more festive? Please bring your friends, sisters & brothers, lovers and moms with you to wish us all good luck to our journey: the farewell party is open for everyone!
Around 17:00 we will together go from Amarillo to the railway station so everyone will be there on time. The Tolstoy train will depart on 18:23.
Sign-up on Facebook. Hope to see you all there!
-Johanna