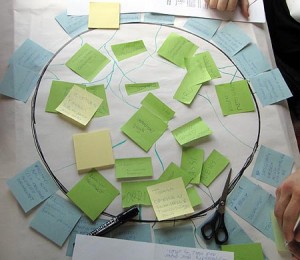 There has already been two Aalto communications workshops – with the third one coming up tomorrow. The focus has been on how to develop communications related to studies and how to make students feel part of the Aalto community.
In the first workshop we discussed about contents and channels of current student communications and how they could be developed. Creating a student service where Oodi and Noppa could be in one was proposed as well as a better tool for planning studies. In the second workshop we developed creative ideas about "what is your dream-come-true way of getting and sharing information about/with the Aalto community. Social media had a strong role in these wonderful sketches.
Ideas collected on Tracks will be used back home to develop student communications and the new student intranet. If you wish to comment on these issues, please write an email to hanna.p.korhonen@aaltouniversity.fi.
- Hanna